June 5, 2017 | Wine | Paolo Cressi
One Thousand and one Bubbles... or rather what makes a great sparkling wine?
What is Franciacorta?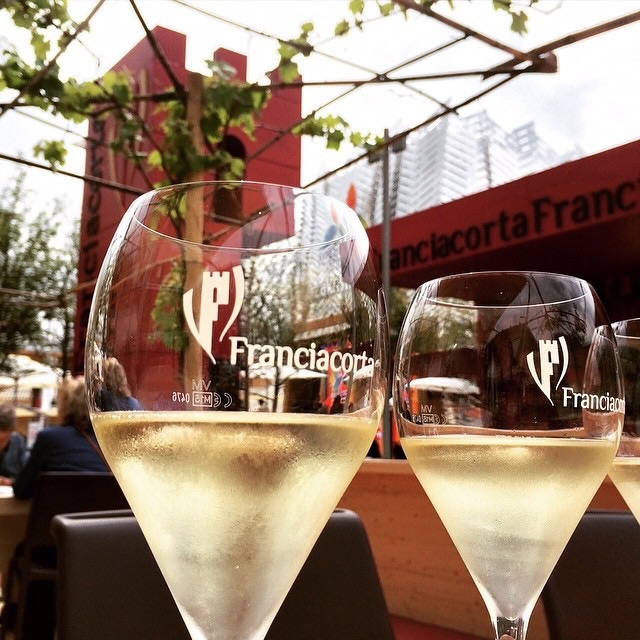 Our case study takes us now to Italy, where we find one of the most respected and revered sparkling wines of the world. Often compared and strictly related to France's historical Champagne, Franciacorta, can frankly claim Italy's highest level of wine classification and regulation, it was awarded DOCG (Denomination of Controlled & Guaranteed Origin) and follows very rigorous production steps, quality standards, and strict organoleptic profile requirements. This classification, given only to the 74 most representative and historically significant wines of Italy, is handed down by the Italian government as a specific and enforced production charter. Franciacorta exploded onto the market in the 1960's and is produced exactly in the same way Champagne is, with the same grape varieties, namely Pinot Noir, Chardonnay and a touch of Pinot Bianco. The secret to Franciacorta excellence as the Italian Champagne rests in the peculiarity of the soil where the vineyards lay. A complex and fabulous composite soil of mixed rocks and minerals created by the advancing glaciers during the last ice age of the Earth. Down from the Alps that are right above this area, a massive conglomeration of debris, rocks, and chunks of mountains were bulldozed down into the hills of this district, located in the upper half of the Italian region of Lombardia, produced in the province of Brescia the second large city after Milan, its capital. This strip of land, mostly hilly, located between Lake Iseo and the morenic amphitheater offers a particular microclimate that imparts the wines with their characteristic aromas. The wines showcase a fabulous mineral complexity and thanks to the extended average maturation time that all Franciacorta wines undergo to, a splendid yeasty complexity and smoothness. They are the epitome of elegance and balance. Beautifully crafted and spectacularly food friendly. From the 'Satèn' style, produced only with Chardonnay grapes and with a creamier, soft character than the regular label made with Chardonnay and Pinot Noir in a classical "Champagne style" and finishing with the Rosé version that becomes distinctively versatile in food pairings, more structured and full-bodied. All in all, Franciacorta encompasses and highlights the best bubbles that Italy has to offer, in stark contrast with the more light bodied, easy drinking and price friendly Prosecco made with the "Charmat/Tank" method that despite all its approachability, will never achieve the levels of complexity, structure, elegance and depth, nor will it ever reward cellaring, as much as Italy's first and foremost "classical method" bubbly.
Comments
Beverlyalcock
@ Sep 15, 2017 at 9:30 PM
Your blog is very nice thank you for this wonderful information i like very much for this article. and it will give the more information from this blog. i also waiting for more than one information this is to get some more processes are available.
Ravi
@ Apr 28, 2018 at 4:44 AM
Wow!! Really did a great article, You've done an excellent job. I will definitely remember it and I must recommend to others.I am sure they'll be benefited from this site. Thanks for sharing such a awesome post.
good for kids
@ Jun 30, 2018 at 11:42 PM
Hey, I'd heard that for 25 years, Tammy Waddell dedicated her life to teaching children at three different elementary schools in the bus filled with school supplies for West end students.
Lisa
@ Jul 1, 2018 at 12:19 AM
The secret to Franciacorta excellence as the Italian Champagne, rests in the peculiarity of the soil where the vineyards lay.
John
@ Sep 23, 2018 at 2:55 PM
Thanks
Best For Shopping
@ Sep 28, 2018 at 11:45 PM
I want renew my membership. Send me more update about the membership. You have shared very informative blog for everyone.
moz
@ Oct 5, 2018 at 12:35 AM
Heya this is kind of of off topic but I was wondering if blogs use WYSIWYG editors or if you have to manually code with HTML. I'm starting a blog soon but have no coding knowledge so I wanted to get advice from someone with experience. Any help would be enormously appreciated!
baughjuriya
@ Oct 11, 2018 at 1:13 AM
They even go your normal teeth one better since they can't create pits.
Max Boost Omega
@ Oct 11, 2018 at 1:58 AM
This is an instructive post and it is exceptionally helpful and learned. https://maxboostomegas.com/
Brea Skinlabs
@ Oct 13, 2018 at 2:03 AM
Way cool! Some exceptionally legitimate focuses! I welcome you composing this post in addition to whatever is left of the site is great. https://breaskinlabstry.com/
Diamond Synergy Forskolin
@ Oct 14, 2018 at 10:46 PM
This is an edifying post and it is to a great degree important and instructed.