D'Angelo Aglianico del Vulture DOC 2013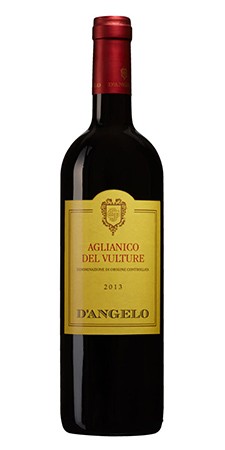 D'Angelo is a historical family estate in the heart of the major appellation of Italy's deep Southern region of Basilicata. Producing wine on the slopes of mount Vulture, an acidic Volcano (now extinct) since the 1930's and concentrating on the Aglianico varietal the Southern Italy's king of red grapes. Displaying many parallels with Nebbiolo (structure, complexity, earthiness, aging potential, high acidity and tannins.) Aglianico del Vulture (recently turned DOCG) is often called the ""Barolo of the South"". The winery concentrates on various single-vineyard expressions of the Aglianico grape and possesses some of the oldest and most important CRU vineyards on the volcano, benefitting from impeccable exposure and high elevation, as well as mineral rich volcanic soils. Wine Spectator allocated D'Angelo in the top-100 wineries of the world. The regular 'Aglianico Del Vulture' is D'Angelo's introductory wine with this important appellation. A blend of fruit coming from the winery's CRU vineyard sites, including 'Canneto', 'Caselle' and 'Valle Del Noce'.
Wine Specs
Appellation
Aglianico del Vulture
Vineyard Designation
Rocco D'Angelo
Aging
Ready now but will keep for 5-7 years. The wines are produced from grapes that tend to ripen rather late, grown at significant altitudes of between 400 and 600 meters above sea level. Fullbodied and cellarworthy.
Fermentation
Indigenous yeasts and traditional large barrels for 20 months.
Wine Profile
Vineyard Notes
Farming Standard: sustainable
Food Pairing Notes
A Robust wines that require robust food. Here are a few suggestions: rich and robust meat dishes such as beef stew, braised dishes such as Oxtail, Osso Bucco or Lamb Shanks, spicy sausages and other barbecued meats, game dishes such as wild boar, squab or duck, pasta dishes with rich meat ragu. Hard and sharp cheeses, such as Taleggio or Pecorino from Italy or Manchego from Spain.