Mother-in-law-Tongue Flatbread Crackers Fleur de Sel 7.05 oz. 200gr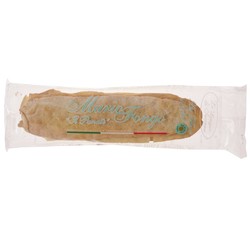 "No matter how large the world may be, no matter how different people are, everyone loves salt and silver". Mario Fongo decided to add a little extra salt to the surface of his Mother-in-Law's tongues, for an extra bold flavor. Excellent alone as a tasty alternative to bread, amazing when served with any ingredientsof your choice, sophisticated as aperitif, with compotes, salami, cheese and a fine glass of wine.
Ingredients: type "00" soft wheat flour, water, 100% Italian extra virgin olive oil, fleur de sel sea salt from Ibiza. MAY CONTAIN MILK, SESAME SEEDS, AND NUTS.