Mother-in-law-Tongue Flatbread Crackers Parmesan 7.05 oz. 200gr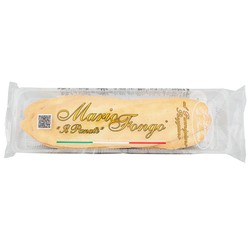 The natural fragrance of Mother-in-Law's tongues teams up with the assertive flavour of Parmesan cheese. Good alone as a tasty snack, creative alternative to bread, amazing when served with any ingredient of your choice, for family meals or on special occasions. Mario Fongo's Parmesan Mother-in-Law's tongues are excellent! Sophisticated as an aperitif with compotes, salami, cheese, and a fine glass of wine, it goes without saying.
Ingredients: Type "00" soft wheat flour, water, 100% Italian extra virgin olive oil, Parmigiano Reggiano DOP cheese, natural yeast, salt. MAY CONTAIN MILK, SESAME SEEDS, AND NUTS.