Mussini Italian Balsamic Pearls 1.76oz. 50gr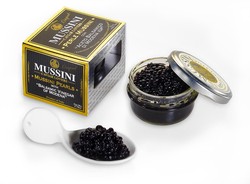 Using their renowned techniques with balsamic vinegar, Mussini has created an unique combination! The balsamic pearls gelatin-like structure that mimic caviar is made only from natural flavor: locust bean gum from seeds and carob tree and agar agar, popularly used in many Asian desserts and Mussini's knowledge and history of balsamic vinegar production shines through its unforgetale taste.
Ingredients: Blasamic Vinegar of Modena 70% (cooked must, wine vinegar), cooked must, water, thickening agent: locust bean gum, agar agar. Contains sulfites.