Stroblhof Pinot Bianco 2015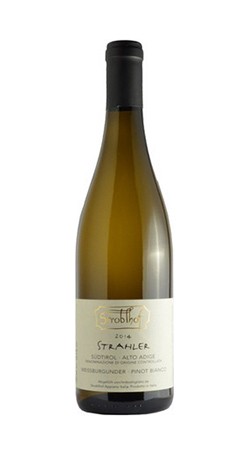 Alto Adige is none other than the German part of Italy and with that comes the enological culture of Germany and Austria. A higher focus on mono-varietal wines, clean/modern winemaking, a fetish for white varietals over reds, high acidity and the unmistakable mineral fingerprint, in this case coming from the metamorphic rock soils (quartz, granite, dolomite rock) that makeup this Alpine region's viticultural DNA. Aside from this, high altitude but loads of sunshine (300+ days a year) guarantee great ripeness and at the same time, intense aromatics and fixed acid. This is why Alto Adige has become so revered in the wine industry. Founded in 1890 and making only 3000 cases of wine, STROBLHOF is an emblematic representation of what a small family run winery and bed & breakfast is like in the region of Alto Adige (also known as Sudtirol in German). Most of the wineries in this region are larger cooperatives, catering to the myriad of small growers with little land available. It is rare and exciting to come across an estate grown and made wine. Due to this, the terroir of Alto Adige shines thorough eve more than usual. All handled with organic viticultural practices and the most nature respectful approach, the wines of Stroblhof become a true icon of what this region is about. The Pinot Bianco is the most widespread grape varietal in the region of Alto Adige. Falling under the umbrella DOC (appellation) of the region, the ""Strahler"" or in English ""reflector/emitter"" (named after the vineyard's exposure) is the winery's entry level white wine. The wine ""reflects"" all the mineral, bright and searing sensations an Alto Adige DOC Pinot Bianco should have. The DOC allows for up to 15% of other varietals to be present in the wine. In this case we see a 3% of Chardonnay to add a little body and a 3% of Pinot Grigio for aromatics.
Wine Specs
Varietal
95% Pinot Bianco 5% Pinot grigio
Appellation
Pinot Bianco Doc
Vineyard Designation
Stroblhof
Aging
Ready now but will develop for a good 3-5 years.
Fermentation
Made in stainless steel with a 6 month passage in cooled large neutral oak barrels and using indigenous yeasts & cold temperature fermentation.
Wine Profile
Vineyard Notes
Farming Standard: sustainable
Food Pairing Notes
This white wine's softer characteristics make it a good match for foods of a similar profile. Some good options fo include seafood, light-flavored meats, light to medium sauces (particularly white and butter sauces), and mild-flavored cheese choices.