Villa Reale Sicilian Tomato Bruschetta Homemade 6.35oz. 180gr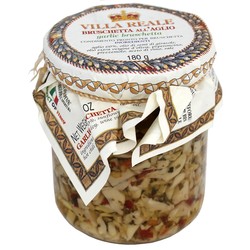 Try it as an appetizer, pasta topping or as woderful snack on toasted bread. Villa Reale products have been produced for more than 26 years by Campo d'Oro in Sicily, Italy. Only ingredients rigorously selected, natural environment, love, and hard work produce these fine gourmet high quality products. This is a pasteurized product with a shelf life of 3 years. Once opened, keep refrigerated up to one month.
Ingredients: Tomato, vegetable oil, extra virgin olive oil, garlic, mint, basil, oregano, chili pepper, sea salt.