Blog
Similar to any species of fruit and vegetable on Earth, wine grapes (vitis vinifera plant) are subject to the concept of "varietal". Biologically, this is defined as a sub-type, or 'biotype', of a specific species of fruit or vegetable. Even with tomatoes, apples, citrus fruits, pears, peaches we are presented with the notion of "varietal". A specific "type" of peach, tomato or what not, that carries with it a specific set of biological traits making it unique and peculiar amongst others of the same species. As co-called "ethnicity" of fruits and vegetables. Amidst these peculiarities are indeed the specific flavors & aromas that we enjoy and differentiate when we consume these products of mother nature. For grapes, these peculiarities end up in the wine that in turn differentiates a bottle from another. Some we like, some we dislike, some we absolutely love, depending on our preferences. Whilst it is true that environment in which these grapes are grown, winemaking techniques and procedures as well as vintage will also mould the profile of a wine, it is equally true that at the base, the character of a wine is largely determined by the varietal(s) with which it is made. The Earth possesses thousands of wine grape varietals, of which half in the entire world are present and native of Italy. Italy is the country with the highest bio-diversity in the world, due to its unique and peculiar environment, geology, climate and location. Its wine grapes do not fall short of this very fact. Over 1,300 native varietals are found in Italy alone. In the vast realm of wine varietals, there is a set of grapes, both white and red, that are largely considered by the trade as being "noble". We often here this definition of "noble varietal". What exactly is a "noble varietal" ? A grape variety with the intrinsic capability of producing wines that are complex, deeply flavored, intense, structured, with great aging potentials over other varietals and the capability to seduce and attract wine lovers worldwide. Syrah, Cabernet Sauvignon, Merlot, Tempranillo, Pinot Noir, Aglianico, Sangiovese, Chardonnay, Sauvignon Blanc, Vermentino are just a handful that fit this category. Nebbiolo...is often said to lead it.
Nebbiolo has a set of characteristics given to it by mother nature that make it a perfect candidate for great red wines. These characteristics include a thick skin, late ripening, a sensitive predisposition to terroir (environment) and a richness of elements.
Although poor in color, which is found in the skin of grapes, (Nebbiolo wines are commonly lighter colored tan other red varieties) the thick skin of Nebbiolo allows this varietal to pack its wines with the other substance we extract from the skins of grapes...TANNIN...and tannin is indeed a driving force behind Nebbiolo based wines. These tannins provide power, structure and protection against the perils of time, allowing the wines to age for long amounts of time, decades, as well as pack a serious punch in the palate and stand up to demanding food.
Perhaps most important of all, is Nebbiolo's late ripening character. Indeed, this varietal's name derives from the Italian word "nebbia", which means "fog", due to the fact it is often harvested late in the season, when the first fogs of fall (autumn) roll into its native region. Often harvested in October and at times November, this very long growing period is the main factor that allows this grape to absorb the stimuli of nature and develop complex flavors, aromas and taste. Nebbiolo are never "simple or shallow wines". From rhubarb to violets, tar, earth and bright maraschino cherries & tangerine, notes of cola, tea leaf and licorice are just a mere few of the aromatics given to us by this king of noble grapes.
Every grape varietal is subjected to the environment in which it is planted. What the French call "terroir", or "sense of place" translated, is a major factor in the flavors and aromas we get from a wine. Nebbiolo, similar to Pinot Noir, has a heightened sensitivity to the micro changes and variations in the environment. The same grape planted in two adjacent hills, or on one side of the road to the other, can give very different results. This creates a mosaic of endless possibilities for flavor and makes Nebbiolo a prime candidate for the expression of the different personalities nature can possess. Never boring or predictable, with Nebbiolo you are always in for some degree of positive surprise.
Last but definitely not least, is its richness of elements, of "ingredients". What elements specifically ? Acidity, poly-alcohols (glycerol), sugars, terpenes and mineral salts. These in turn give us massive doses of freshness and backbone, mid-palate and thickness, alcohol, aromatics and in the end sapidity (sense of salt). All contribute to giving Nebbiolo wines a big structure and a full body.
As with anything in life, the best things come with a hefty price tag. Nebbiolo's price-tag is not only the one attached to the bottle on the shelf of a wine store, but its finicky and capricious nature and most of all, its unadaptability to being planted in environments that it does not perceive as "familiar". Plenty of attempts have been made to replant Nebbiolo in North America, Asia and other parts of Europe...with often poor results. Nebbiolo reveals its complete nature and potential in a limited series of regions located almost exclusively in North Western Italy, the place it has called "home" for at least 2 thousand years. before that, we simply do not know. Proven by etymological research, historical accounts, DNA analysis and archeological research, the region of Piemonte is the headquarters and epicenter of this king of grapes. Specifically, 3 wine appellations can be highlighted as producing what are largely considered to be the best expressions of this varietal : Barolo, Barbaresco & Roero.
Located in Southern Piemonte, in the county of Cuneo, in a specific agricultural district called "LANGHE" and right next to the town of Alba, are the 11 villages that make up the BAROLO DOCG wine appellation. A name that goes on a label of wine if Nebbiolo is utilized 100% to make the wine, grown in these specific 11 villages and following some of the strictest production regulations in the world. In 1980, the wines of the Barolo area became one of the first Italian wines to receive DOCG status. It is considered one of the finest and longest-lived wines, often referred to as the "the king of wines and the wine of kings.'' Produced to the southwest of the town of Alba in the hills of the Langhe, Barolo is a big, tannic expression of the Nebbiolo grape. It was the first wine in Italy to undergo the "zonazione" (single-vineyard identification and cataloging) in the 1970's, with 1961 being the year the first bottles with an "extra name" appeared, namely Prunotto's 'Barolo Bussia' and Vietti's 'Barolo Rocche di Castiglione'. This started the movement that transformed Barolo into what can truly be defined as "Italy's Burgundy". An extreme, obsessive compulsive focus on "terroir" (the sense of place).
The soil of this area is a composition of clay and limestone called "MARL", which helps to lessen the naturally high acidity of Nebbiolo (as it contains calcium carbonate). Depeding on the age of this "marl" we find 2 distinctive and well documented / discussed soil types called 'Elveziano (Helvetian)' and 'Tortoniano' (Tortonian). The Tanaro river flows through the heart of Barolo country and serves as a tempering influence on the region's summertime heat until harvest time in late October/mid November, as well as delineating the border between the two soils. A relatively small wine district, extending over 7 miles in length and 5 miles at its widest point, from altitudes of 656ft (200mt) to 1,814ft (553mt), Barolo produces about 13,902,404 bottles of wine annually. Barolo can be produced only in 11 villages (communes) but nearly 87% of the production comes from these five, which are the most important:
• Barolo (gives the name to the appellation)
• Castiglione Falletto
• La Morra
• Monforte d'Alba
• Serralunga d'Alba
Granted its DOCG classification, wine production is strictly limited to the vineyards located on steep hills around the towns of Barolo, La Morra, Castiglione Falletto, Serralunga d'Alba and Monforte d'Alba and the additional villages of Diano d'Alba, Grinzane Cavour, Novello, Cherasco, Roddi and Verduno. The soils and microclimates vary greatly between these communes resulting in different styles of wines and the historical necessity to create separate classifications of CRU vineyards (smilar to Burgundy). In the villages of La Morra and Barolo the soil is Tortonian, a younger limestone-rich marl soil (sandier) which is particularly fertile and thus leads to a ruby colored wine, that is more aromatic, soft and balanced when young.
La Morra is considered the most perfumed and graceful of the Barolos, as well as the most supple and easiest to drink. Those from Barolo are a little broader textured and more complex. Generally speaking, both age less than their counterparts in the other villages. In Castiglione-Falletto, Serralunga d'Alba and Monforte, the vines are grown on Helvetian soil which is an older chalky, heavier and less fertile soil, containing some sandstone and limestone. This leads to a lighter brick colored wine which is more intense, bigger in structure, requiring a longer time to age. Serralunga d'Alba is well-structured, long-lived and the most tannic of the five, while Castiglione-Falletto is renowned for its fullbodied and rich nature, good balance and aromas. Monforte D'Alba offers rich concentrated characteristics and a serious intensity on the nose. Despite the different characteristics of these wines due to the varied terroir, they do display similar traits. These include a garnet color, powerful structure, high acidity levels and alcohol, and firm tannins, with the capacity to age for many years. They are also characterized by their unmistakable aromas of tar and roses. Made from pure Nebbiolo (the name is thought to come from nebbia, Italian for fog, which frequently occurs during harvest time in Piedmont), Barolo is required under regulations to spend at least 38 months aging, of which 18 must be spent in wood. For the added designation of Riserva, the aging time increases to 62 months. As the tannins soften over time the complexity shows through with hints of earth, truffles and dark chocolate. As briefly mentioned, the differences in characteristics and classification of the various single-vineyards (French concept of "cru") in Barolo DOCG, were mandated by a series of geological and geographical factors. Not only do we have a vast amount of different expositions in the Langhe area of Piemonte, with vineyards facing almost all directions and hills intertwining wildly like "tongues of land" ("lingue" in Italian, giving the name LANGHE), but we also have a net divider line running through the appellation that separates the 2 distinct soil types described above. This divider line was the old course of the river Tanaro before it changed its course in recent centuries. The old river bed delineated the crack in the earth's crust created millions of years ago by tectonic activity which brought to light older soils (Helvetian) on one side, while leaving the younger soils (Tortonian) intact on the other. Generally, Nebbiolo grapes ripen later in Barolo than in Barbaresco which leads to a bigger structured wine with firmer tannins. Traditional Barolos still require at least ten years aging to tame the fierce tannins. However, there is an abundance of "international styles" being made where fermentation times have been reduced from three weeks to a maximum of ten days and the wine is aged in new French barriques (small oak barrels), instead of large wooden casks. This has resulted in a fruitier, more accessible style that requires less time to age. Traditionalists believe this has made the classic character of 'Barolo' unrecognizable, and there remains much controversy between the modernists and the traditionalists, often referred to as the 'Barolo Wars.'
Not only is Barolo defined by its various villages, but there are also vineyards which have been given 'cru' status as mentioned. Some are official, some unofficial and winery designated (proprietary), each with their own personality and traits. There is a map that covers all the criteria required of a 'cru' vineyard (see appendix) and personal research is strongly encouraged. The following "cru" vineyards are considered to be the most significant; in the commune of Barolo there is Cannubi and Sarmazza, as well as Brunate also shared with the commune of La Morra (the biggest producing town), which has the highly esteemed Cerequio and Rocche single vineyards. In Castiglione Falletto, the Rocche di Castiglione, Monprivato and Villero vineyards lead the way, and in Serralunga d'Alba, Lazzarito, Francia and Vigna Rionda rank the highest. Monforte d'Alba (which focuses on bigger and more generalized single vineyards) is home to the famous Bussia, Ginestra and Santo Stefano di Perno CRUs. Ultimately, there are 170 official "cru" vineyards of Barolo DOCG, but many more are labelled due to the presence of proprietary, brand exclusive, non-official vineyards that are not found in the government cadastre. This is a good source of confusion amongst both industry professionals and regular consumers alike.
In an attempt to clear things up a little, we can safely summarize the following after the 2010 reform of the Barolo DOCG appellation regulations:
1.With the term "cru" or "single vineyard" (also known in Italian as MGA - Menzione Geografica Aggiuntiva) we are referring to a specific, delineated, small patch of land that has been identified as having peculiar charatceristics for the production of grapes for wine and that bears the traditional name.
2. If a Barolo DOCG is made from 2 or more single vineyards it cannot carry a "cru" name on the label and is relegated to straight forward "Barolo", but can mention the communes (villages) of origin as long as they are the same for each vineyard utilized for that wine. Eg. "Barolo di Serralunga" (Barolo from Serralunga) or "Barolo del comune di Barolo" (Barolo from the village of Barolo).
3. The mention of the "cru" can also be utilized for non Barolo DOCG wines (it is not Barolo DOCG exclusive), for example Docletto D'Alba DOC, or Barbera D'Alba DOC, which are other appellations (other wines...) being made in the same vineyards.
4. A mention of a single vineyard / "cru" on the label is not a sign of a better quality wine, but rather a wine of more specific "character". It merely designates a geographical origin of the grapes utilized, which will naturally carry the peculiarities and traits of that specific terroir, although the law does lower the yields for wines carrying a single vineyard mention (true for all Italy, any wine).
5. Single vineyard / "cru" Barolo DOCG wines do not have to be 100% from that vineyard. The law allows a 15% maximum of grapes from other sources. It is clearly understood that the better producers will focus on 100%.
BARBARESCO DOCG is the 2nd most famous and celebrated wine appellation made 100% from the Nebbiolo varietal. If Barolo is the "King", Barbaresco can be seen as the "Queen." Also made from compulsory 100% Nebbiolo, it shares with Barolo the cult status as one of the finest wines in the world. This aristocratic red was awarded its DOCG classification in 1980. Its vineyards are situated in the Langhe, on the right hand side of the Tanaro River and extending from the area northeast of Alba to the communes of Barbaresco, Nieve and Treiso, as well as San Rocco Senodelvio, once part of the Barbaresco municipality but now a part of Alba. There are a lot of similarities that Barbaresco has with it neighbor Barolo, but the majorly Tortonian (sandier) soils help fashion distinctly different wines. Generally less tannic, Barbaresco tends to be more elegant and approachable in its youth. The Barbaresco DOCG regulation stipulates wines have minimum alcohol content of 12.5% and 26 months minimum aging of which 18 must be spent in wood. 50 months minimum for the Riserva labels. Being an even smaller zone then Barolo, producers in the region produce little more than 200,000 cases annually. The majority of Barbaresco production takes place in three comunes: Barbaresco, Treiso and Neive.
The soils in the Barbaresco zone are more uniform across the region which tends to produce a more consistent profile with the wines then can be achieved across the widely different areas of Barolo. This does not mean that there are no CRUs in Barbaresco (like Barolo...), but rather that the differences are felt at a lower impact. Grown on younger, sandier soils with less clay (Tortonian), these wines result in a more 'feminine' and lighter character than its masculine counterparts of Barolo, requiring less age and maturation for optimum enjoyment. The vines are generally grown on looser limestone-rich marl soils (similar to the Tortonian soils of Barolo and La Morra areas in the Barolo DOCG) at 200-400 meters (650-1300 feet) above sea level, on very steep, 'prealpine' hills. They are situated on the south facing slopes for best exposure. Geologically, it is interesting to note that the 3 villages of the Barbaresco DOCG have always been on land that was situated on the same side of the Tanaro river, which changed its course 250,000 years ago after tectonic activity and hence deviated around what today is the Barolo DOCG. Indeed, the dividing line between the two clear-cut soil types of the Barolo DOCG area, is the ancient course of the river Tanaro before it shifted. Barbaresco's terrains remain on the same side and hence possess only one major soil type, Tortonian. Which gives not only a far more "uniform" character to the wines compared to Barolo, but also, the simpler/younger soil type lends to its more restrained characteristics. Microclimate wise, Barbaresco has a slightly warmer, drier and milder climate than its neighbor. This means its grapes tend to ripen earlier than those in Barolo. As a result the wines are less tannic and thus more accessible and approachable at an earlier age. However, there is still plenty of acidity and tannins that make this an ageworthy red, just not as much as the "king" Barolo. Barbaresco is characterized by its rich, spicy flavors and perfumed sweetness and is generally considered more elegant and refined than its counterpart, which is a more robust and longer-lived red.
Thirdly, we find the ROERO DOCG appellation. Across the river Tanaro from both the Barolo and Barbaresco appellations the area of Roero has been an up & coming focus for the production of great quality Nebbiolo wines. Far more famous for the whites produced here from the Arneis grape variety, the reds have had little attention so far but revela immense potential to become celebrated reds.
Roero is a hilly area situated in the north easternmost part of the province of Cuneo, on the other side of the Tanaro river from Barolo and Barbaresco. It owes its name to an ancient feudal family that ruled the district. The limestone rich and ocean sediment soils of the Roero hills yield an intense and elegant red wine that differs from most great Piedmontese wines in that it quickly attains good balance, while the others require aging. Moreover, it possesses a minerality the other wines in the Langhe lack. Indeed, this minerality in the terroir makes it far more suitable for white wines than the area across the river where we find the famous reds. Arneis is the indigenous white here and possibly the best white wine of the entire Piemonte region. There has been a major upsurge in experimentation with attention focused on selection and general refinement of the local output. This modern approach provides consumers with a wide choice and fine quality wines. Roero received its DOCG in 2006. It can therefore be considered a young appellation, but it is one with a lot of history and geological intrigue behind it, that deserves more attention.
The appellation contains 1 red wine and 1 white wine that fall under this DOCG. The white is made with the native Arneis varietal, whose name derives from the local dialect word for 'cheeky' and is a very unpredictable grape. Per appellation regulations it must be minimum 95%. It can also be found Spumante (sparkling). The red is naturally made with the noble varietal, Nebbiolo and must be minimum 95%. It can also be found as Riserva. Other wines produced in this area include Barbera d'Alba, Birbèt, Bonarda, Favorita, Moscato d'Asti and Nebbiolo d'Alba, but these DO NOT fall under the Roero DOCG appellation. The main characterizing factor of this appellation is the higher concentrations of 'limestone' and the presence of 'marine sediments'. This adds a mineral character to the wines not found on the other side of the river and indeed provides the best expressions of the white Arneis, somewhat more bland in the Southern bank.
3 wines that are considered amongst the most peculiar, qualitative and "noble" in the world and all driven by the intrinsic peculiarities of perhaps the most noble grape on Earth, called "prunus spinosa" (the wild prune) by the ancient Roman author and naturalist, Pliny the elder, with an origin as mysterious and intruiging as the very wines it produces...a grape that he himself wrote, "feeds on fog".
What is Franciacorta?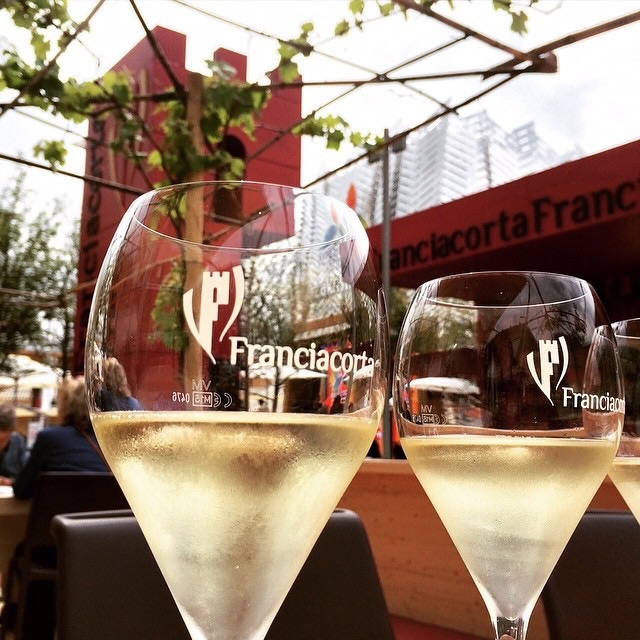 Our case study takes us now to Italy, where we find one of the most respected and revered sparkling wines of the world. Often compared and strictly related to France's historical Champagne, Franciacorta, can frankly claim Italy's highest level of wine classification and regulation, it was awarded with the DOCG (Denomination of Controlled & Guaranteed Origin) and follows very rigorous production steps, quality standards, and strict organoleptic profile requirements. This classification, given only to the 74 most representative and historically significant wines of Italy, is handed down by the Italian government as a specific and enforced production charter. Franciacorta exploded onto the market in the 1960's and is produced exactly in the same way Champagne is, with the same grape varieties, namely Pinot Noir, Chardonnay and a touch of Pinot Bianco. The secret to Franciacorta excellence as the Italian Champagne, rests in the peculiarity of the soil where the vineyards lay. A complex and fabulous composite soil of mixed rocks and minerals created by the advancing glaciers during the last ice age of the Earth. Down from the Alps that are right above this area, a massive conglomeration of debris, rocks and chunks of mountains were bulldozed down into the hills of this district, located in the upper half of the Italian region of Lombardia, produced in the province of Brescia the second large city after Milan, its capital. This strip of land, mostly hilly, located between Lake Iseo and the morenic amphitheater offers a particular microclimate that imparts the wines with their characteristic aromas. The wines showcase a fabulous mineral complexity and thanks to the extended average maturation time that all Franciacorta wines undergo to, a splendid yeasty complexity and smoothness. They are the epitome of elegance and balance. Beautifully crafted and spectacularly food friendly. From the 'Satèn' style, produced only with Chardonnay grapes and with a creamier, soft character than the regular label made with Chardonnay and Pinot Noir in a classical "Champagne style" and finishing with the Rosé version that becomes distinctively versatile in food pairings, more structured and full bodied. All in all, Franciacorta encompasses and highlights the best bubbles that Italy has to offer, in stark contrast with the more light bodied, easy drinking and price friendly Prosecco made with the "Charmat/Tank" method that despite all its approachability, will never achieve the levels of complexity, structure, elegance and depth, nor will it ever reward cellaring, as much as Italy's first and foremost "classical method" bubbly.