Bressan Carat 2012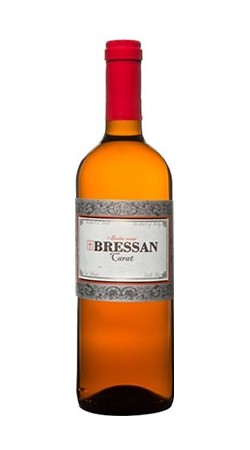 Carat Bressan: the magic of tradition. This is a wine suitable for every occasion as the epitome of fineness.Tradition has to do with respecting the knowledge inherited from the experience of our forefathers. It is with this tradition in mind that Bressan has created this classic varietal blend, obtained exclusively from the marriage of precious grapes that, for centuries, have found their ideal habitat in the sandstone loam of the Collio's hillsides. . Yellow straw-colored, delicately aromatic, pleasantly enticing, with sensory notes recalling apricot, peach, melon and a vague aroma of almond, all unfolding into an extremely elegant bouquet. Well balanced after its rest in barriques oak casks, which allows its fleeting notes of acacia and precious honey to fully reveal themselves.
Wine Specs
Varietal
Tocai friulano, Malvasia and Ribolla gialla.
Vineyard Designation
Vineyard is located in Farra di Isonzo, Gorizia.
Aging
This wine has been diveded and one part is aged in Barriques the other in oak casks. Then the final wine made an additional aging for 2-3 months in stainless Steel.
Wine Profile
Tasting Notes
Serving Temperature: 50- 55 °F.
Food Pairing Notes
Suitable to pair well with a wide range of foods: herthy with all kind of meats, lighter and gentle with rich fish stew, pasta or risotto and even salmon.