Bressan Pignol 2003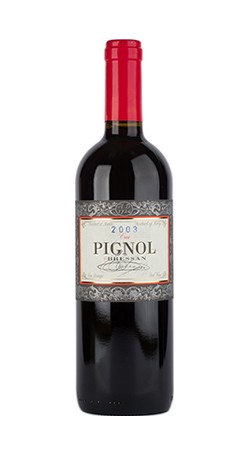 A taste which is contained yet mysterious, timid to the point of almost hesitating to reveal itself. It has a vivacious ruby red color that fascinates the eye and tantalizes your senses. Good levels of alcohol and acidity. Fruity, harmonic, elegantly bodied, delicate and softly tannic. Vinous, fruited, reserved in its perfume which slowly opens to an inviting bouquet. A great wine which awaits appreciation upon discovery.
Wine Specs
Vineyard Designation
Vineyard is located in Corona, hamlet within the town of Mariano del Friuli , where the soil is prevalent rocky and full of iron.
Aging
three years aging in oak casks
Fermentation
Macerated over an extended period along with their skin: after being racked off the wine undergoes a secondary fermantation for 40 days.
Wine Profile
Tasting Notes
Serving Temperature: 63- 64 °F.
Vineyard Notes
Rocky soli full of iron.
Food Pairing Notes
Versatile in food pairing, it matches perfectly with cheeses, red meat and any king of pasta. Try it nuts and dry fruit.