Bressan Pinot Nero 2010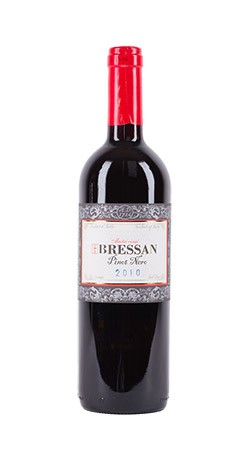 A wine predisposed to its extended sojourn in oak casks where, while notably ageing, evolves in its characteristic organoleptic qualities towards nuances including goudron, burnt wood, truffle, raspberry and wild blackberry. Dry and aromatic, elegant and aristocratic, intense and overwhelming in its tannic. When mature, it reveals an elegant, ethereal bouquet of underbrush and musk. Ruby red in color, dry, slightly aromatic; an aristocratic wine for true connoisseurs!
Wine Specs
Appellation
Venezia Giulia IGT
Vineyard Designation
Scuplìt Vineyard - Location Corona (Fraction of Mariano del Friuli Venezia Giulia - Gorizia)
Aging
At least 2 years in 2000 litre (528G) oak barrels before bottling. Bottles are then stored in groups of 500 in large chests which are placed in thermally conditioned warehouses for additional aging.
Fermentation
Pinot Nero grapes are brought to must, de-stalked and soft-pressed, then macerated over an extensive period with principal fermentation along with the skins, continuously refrigerated with well water at a controlled temperature 24°C (75F).
Wine Profile
Tasting Notes
Serving Temperature: 63- 64 °F.
Vineyard Notes
Soil: calcareous mineral base, with high presence oiron dioxides. Such geological characteristics, associated with this scarce endowment of organic and other nutritional elements, forces the vines to a slow vegetative growth, resulting in an extremely low production, with an overall benefit to the MACRO and MICRO components of the grapes, and therefore the wines. Training System: Guyot mono-lateral cultivation technique (with 4-5 buds per cane, resulting in a reduced yield), slight lopping in summer for a better ratio between leaves and grape clusters. No fertilization. Grapes permitted to slightly over-mature (so as to attain very high fixed acidity congenital to the species), calculated in function of the maturation curve. Harvest performed exclusively by hand.
Winemaker Notes
The winemaking production method allows the prolonged ageing worthy of this fine red. More specifically, the long period of maceration, paired with the elevated level of fixed acidity predisposes this wine to extended ageing. Wine good to drink now, but that can have a beautiful evolution after resting for a while in your cellar, you can easily leave it in you cellar for 4-5 years.
Food Pairing Notes
Although it has a reputation for pairing well with a wide range of foods, Pinot Noir reaches its peak with earthy ingredients like mushrooms and gamey meats like duck and lamb; lighter versions are also terrific with rich fish like salmon.