Jermann Vintage Tunina 2013
93 JS, 91 WS, 91 W&S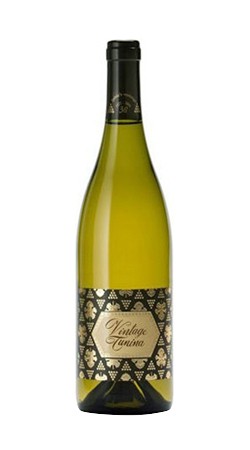 It has a brilliant straw-yellow color with golden highlights. Its aroma is intense, full, with enormous elegance and persistence with hints of honey and wild flowers. Dry, velvety tasted this wine has an exceptional persistence due to its particularly full body. A bright, minerally white wine that shows flavors of poached apricot, honey and fennel seed, with zesty accents of melon rind, ground pink peppercorn and grated ginger. Offers a long, mouthwatering finish.
Wine Specs
Varietal
Sauvignon, Chardonnay, Ribolla Gialla, Malvasia, Picolit.
Appellation
Vintage Tunina
Vineyard Designation
Jermann
Aging
Ageing potential: on average 7–8 years, and in the best vintages over 10 years.
Wine Profile
Tasting Notes
Serving Temperature: 60- 64 °F
Vineyard Notes
The training system forms used are guyot-cappuccina, with 6000-7000 vines per hectare and with a yield of 40–60 quintals.
Production Notes
For this particular grape blend, a selection is made of the best grapes which are gathered late, around two weeks after the normal harvest, on a surface of around 16 hectares of vineyard cultivated on Ronco del Fortino.
Winemaker Notes
Jermann is the story of a passion that came from far away. In 1881 Anton Jermann, the founder, left the Austrian wine-growing region of Burgerland and, later, the vines of Slovenia to put down roots in Friuli Venezia Giulia. Here he continued his winery business, and from the 1970s Silvio Jermann's combined genius and imagination took the company to undreamed-of success in wine circles, both in Italy and worldwide.
Food Pairing Notes
It is paired with truffled first courses, with a great variety of fish dishes, especially oven-baked fish and fish in sauce, and it can easily be drunk with white meats. Fresh salmon stuffed with parmesan and artichoke.