Kimia Moscato Secco IGP 2016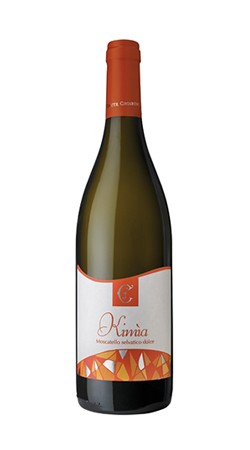 Don't think about the usual Moscato!! This is different! This wine shows a pale yellow color and a peculiar aroma of yellow tropical fruits. Kimia Moscato has a smooth acidity and a pale yellow color that reminds youof acacia honey. It will opens in your mouth with its almonds and green grass notes and it will surprise you with a light half bodied structure. Hints of white nectarine and lemon, honey and grapefruit!! This is not a very sweet Moscato like the other you are use to taste but you will love it paired with the perfect mediterranean dish.
Wine Specs
Appellation
Moscatello IGP
Vineyard Designation
Tenute Nicola Chiaromonte
Aging
Aging: Stainless Steel
Wine Profile
Tasting Notes
Serving temperature: 49-55ºF
Vineyard Notes
Grape variety: 100% Moscato Vineyard: Spurred cordon Soil: Predominantly calcareous soil Altitude: 330 m. a.s.l.
Production Notes
Bush-trained in the ancient, free-standing style known as alberello. As of 2009, all of the vineyards are certified organic.
Food Pairing Notes
Kimia Moscato is slightly sweet and with its tropical lemon and grapefruit taste is amazing and perfect to be paired with your vegetarian dish or seafood and mussels!!
Other Notes
Kimia Moscato is made from certified organic grapes.