San Francesco Cirò Greco Bianco Classico 2014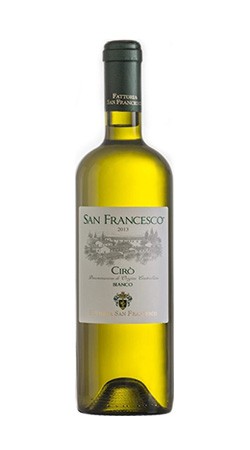 Enotria (the land of wine). That's what the ancient Greeks had to say about the wild deep Southern Italian region Calabria that is home of the indigenous variety Gaglioppo that was brought by the earliest Greek colonizers. A magic and untouched landscape more akin to the wilderness of inland Greece and Northern Africa, stupendously Mediterranean. Cirò is the most important and historical wine denomination of this region. Legend and now archeology has it that the wine of Cirò was offered to ancient Olympic champions in Greece 3000 years ago. The winery Fattoria San Francesco is nested in a XVI century monastery where vineyards and olive groves were planted. In Italy the winery boasts "cult status" among Somms and wine industry peers, having long been considered one of the most traditional and classic producers of Calabrian wine. From those vineyards, the wines from the Fattoria San Francesco are still produced, and the monastery is the center of the agricultural activity. Gaglioppo is the most important red wine grape in Calabria and Greco the white. The Luzzolini family has recently taken over the winery and renovated as well as improved production on all levels. Fattoria San Francesco's Cirò Bianco Classico (from the classical / historical epicenter of the appellation) is the entry level white wine, made from 100% Greco grapes grown in the multitude of estate vineyards, some reaching the town of Cirò Marina (right up to the beaches on the Mediterranean sea). "Oceanic" is the best way to describe this benchmark Southern Italian seaside white wine. Sea water, shellfish, Mediterranean herbs, exotic citrus (bergamot & clementine) and almonds are classic aromas.
Wine Specs
Vineyard Designation
Fattoria San Francesco
Aging
Cellar Potential: 3 years
Fermentation
All stainless steal, selected yeasts and cold temperature fermentation to preserve freshness. I most vintaged the grapes are harvested early to retain acidity in Calabria's hot weather. Only made from 1st press juice.
Wine Profile
Food Pairing Notes
Pair this wine with ceviche, gremolata sauces, grilled swordfish, or Sicilian involtini.