San Francesco Cirò Rosso Classico Gaglioppo 2013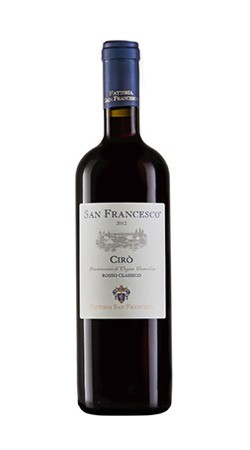 Enotria (the land of wine) is what the ancient Greeks had to say about the wild deep Southern Italian region Calabria. This region is home of the indigenous variety Gaglioppo that was brought by the earliest Greek colonizers. A magic and untouched landscape more akin to the wilderness of inland Greece and Northern Africa, stupendously Mediterranean. CIRO' is the most important and historical wine denomination f this region. Legend and now archeology has it that the wine of Cirò was offered to ancient Olympic champions in Greece 3000 years ago. The winery Fattoria San Francesco is nested in a XVI century monastery where vineyards and olive groves were planted. In Italy the winery boasts "cult status" amongst Somms and wine industry peers, having long been considered one of the most traditional and classic producers of Calabrian wine. From those vineyards, the wines from the Fattoria San Francesco are still produced, and the monastery is the center of the agricultural activity. Gaglioppo is the most important red wine grape in Calabria. The Luzzolini family has recently taken over the winery and renovated as well as improved production on all levels. Fattoria San Francesco's Cirò Rosso Classico (from the classical / historical epicenter of the appellation) is the entry level red wine and showcases a classic, traditional terroir driven red wine of hot & sunny Calabria. Growing on pure white clay (famous Argilla Bianca soil of Cirò), identified by the ancient Greeks as ideal for the native Gaglioppo varietal, this wine is made form 100% Gaglioppo coming from the entire array of San Francesco vineyards, some facing right up to the open Mediterranean sea. It explodes with the traditional notes of dark ripe fruit (myrtle, blackberry), spices (licorice, cumin) and oriental aromas like Hibiscus, sandalwood, myrrh.
Wine Specs
Vineyard Designation
Fattoria San Francesco
Aging
Cellar Potential: ready now but will keep for 3-5 years
Fermentation
The wine undergoes a short maceration during fermentation and a brief aging in used / neutral French oak barriques.
Wine Profile
Food Pairing Notes
Perfect companion to roasted meats, wild game, hard cheeses, any cut of beef, mushroom risotto, meat stewed.