Castello di Buttrio Ribolla Gialla 2013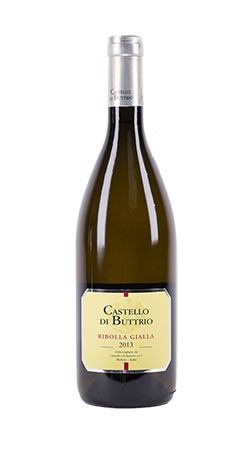 The story of Ribolla Gialla is wrapped in the scents of the Mediterranean. Borne by waves from the island of Cephalonia, the ribolla gialla grape found a home in the hills of Friuli. It was mentioned as long ago as the 12th century and praised by German chroniclers in the 14th. Ribolla Gialla wine has always had a special place in the viticulture of eastern Friuli, where it is part and parcel of the history of empires, peoples and places. Pale straw yellow color. On the nose, fragrantly floral, elegant and stylish. On the palate, dry, fresh-tasting and lively with distinct acidity.
Wine Specs
Varietal
Ribolla Gialla 100%
Appellation
Colli Orientali del Friuli DOC
Vineyard Designation
From the "Ronco di Tobia" vineyard at Castello di Buttrio
Aging
For 6-8 months on the fermentation lees kept in suspension by periodic stirring.
Fermentation
Soft pressing with separation of the press fractions. Settling at 59 °F for 24-36 hours. Fermentation in stainless steel tanks at a controlled temperature of 60-68 °F.
Wine Profile
Tasting Notes
Serving Temperature: 42-50° F
Vineyard Notes
Soil:Alternate layers of marl and sandstone of Eocene origin, known as "ponca" in Friuli Venezia Giuliaano Training System: Double Guyot at 4,500 vines per hectare Age of Vines: 15 years.
Food Pairing Notes
A fine partner for cold or raw fish starters with tart lemon-based sauces. Great with soups, especially cream soups and veloutés, as well as pasta and rice with vegetable sauces or fish-based preparations.