Ciboreale Gift Box 3x250 gr./26.4 oz.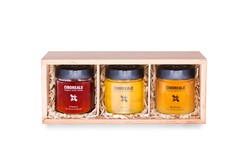 Ciboreale goes straight from bee to hive to bottle, they try to keep things simple. This pure honey is simply that: pure honey. Rest assured that nothing has been added. Try this variety gif box and experience the complex flavor and the very mild sweetness of the Chestnut honey, the slightly floral flavor with hints of vanilla of the Acacia honey and the fragrant bouquet reminiscent of wildflowers on a warm Toscana summer evening of the Multifower.
Ingredients: Organic Honey
Nutrition Fact : Serving Size: 1 Tbsp (21 gr)
Calories 64, Fat 0g, Sodium 0mg, Carbohydrate 17g, Sugar 17g.
Note: Children under the age of one year should not consume raw honey.