Ciboreale Raw Organic Chestnut Honey 8.8oz/250gr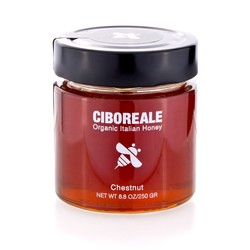 Chestnut honey is the classic mountain honey. Dark in color, ranging from deep amber to an almost glassy black with yellowish hues, it has a bold aromatic profile and an equally complex mysterious flavor. There is a slight tannic taste due to tannin in the tree. The flavor is very unique and not very sweet. Complex flavor, very mild sweetness, tangy with spicy undertones followed by a slightly bitter aftertaste and very aromatic, of tannin. Color: Amber shades. Depth varies by harvest. Physical Consistency: Fluid. It crystallizes quite slowly. Large crystal size. Excellent with aged cheeses and with fine yogurts. Popular Tuscan way to enjoy it: drizzled over a slice of Pecorino cheese with fresh sliced pears. Also great to add while baking cakes, cookies, and tarts. Contributes nicely to marinades and glazes.
Ingredients: Organic Honey
Nutrition Fact : Serving Size: 1 Tbsp (21 gr)
Calories 64, Fat 0g, Sodium 0mg, Carbohydrate 17g, Sugar 17g.
Note: Children under the age of one year should not consume raw honey.