Ciboreale Raw Organic Multiflower Honey 8.8oz/250gr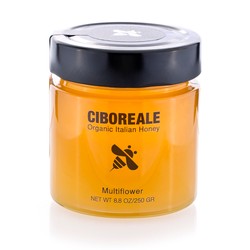 It is the typical Tuscan honey. Produced in the foothills and harvested in the summer this honey has a fragrant bouquet reminiscent of wildflowers on a warm Toscana summer evening. The color is beautifully light golden and the flavor is a sweet combination of floral nuances with slightest hint of chestnut. This honey is the most comprehensive from a nutritional standpoint. Sweet and persistent flavor with a full bodied and distinctively sweet smelling The color varies from shades golden amber to light brown. Fluid with a tendency to crystallize; average crystal size. Excellent to spread, to sweeten herbal teas and fruit salads.
Ingredients: Organic Honey
Nutrition Fact : Serving Size: 1 Tbsp (21 gr)
Calories 64, Fat 0g, Sodium 0mg, Carbohydrate 17g, Sugar 17g.
Note: Children under the age of one year should not consume raw honey.