Mini Mother-in-law-Tongue Flatbread Crackers 3.53oz. 100gr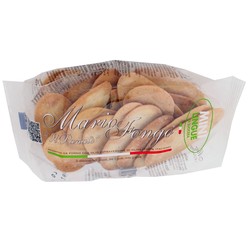 These elegant, long slabs of rustic crackers, in mini form, are what made Mario Fongo famous back in 1993. They are made using only the most basic, pure ingredients by the Fongo family at its "laboratorio" outside Asti, Italy. They contain only 100% Italian wheat, 100% Italian extra virgin olive oil, fresh yeast and salt. They are cut through machines, but each "tongue" is then formed and cared for by hand, then baked to crispy perfection and sealed as soon as possible for maximum freshness. These make an excellent presentation with cheeses and olives or as a substitute for bread with a meal.
Ingredients: type "00" soft wheat flour, water, 100% Italian extra virgin olive oil, natural yeast, salt. MAY CONTAIN MILK, SESAME SEEDS, AND NUTS.