Mother-in-law-Tongue Flatbread Crackers Rosmary 7.05oz. 200gr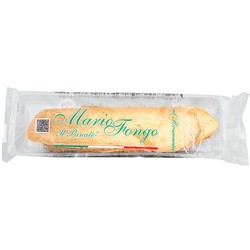 The aroma of rosemary envelops the thin crispy bread tongues to create a flavour that recalls tradition and the warmth of the domestic hearth, setting the atmosphere for a gratifying family meal. Mario Fongo tells us that his friend, Giacomo Bologna, a well-known wine producer and owner of the Braida firm, had tasted a similar product in the shop of an old baker in the nearby town of Acqui Terme and, impressed by its simple yet delicious taste, suggested this product to Mario, sure of its success on the market. So Mario went off to visit the baker's in Acqui and asked them to disclose the secret of the recipe but the old lady refused to hand it over. From then on, its successful interpretation became an obsession for Mario and he worked tirelessly, mixing the ingredients in different proportions, until he found the perfect harmony. It was Mario's wife, Vittoria, who thought up the name of this original product: "We shall call them Mother-in-Law's tongues - she said - because only mothers-in-law have tongues as long as these!".
Ingredients: type "00" soft wheat flour, water, 100% Italian extra virgin olive oil, natural yeast, salt, rosemary. MAY CONTAIN MILK, SESAME SEEDS, AND NUTS.