Mussini Flavored Wine Vinegar Passion Fruit 8.5oz. 250ml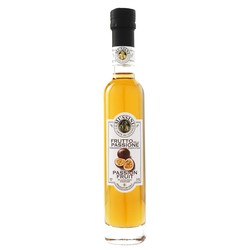 The Agro-Frutta Passion Fruit flavored vinegar is made with the same grape must-- trebbiano (white) and lambrusco (red)--that is used to produce the unique and inimitable taste of Balsamic Vinegar of Modena. A new product that offers a totally new experience as it represents the ultimate evolution in traditional balsamic vinegar making.The use of a high percentage local grapes and natural flavorings guarantees a very high standard of quality. With no sugar added, this passion fruit flavored vinegar can be used every day for healthy dishes full of creativity. Its unique bottle makes it a precious gif too. It comes with a useful measuring cap to easly and precisely pour flavor on your dishes without wasting a drop. Try these vinegars on vegetables or even in a glass of sparkling wine!
Ingredients:cooked grape must, wine vinegar (6%), blood orange juice (2%), concentrated passion fruit juice (2%), natural flavor. Contains sulfites.