Villa Reale Pistachio Pesto 6.35oz. 180gr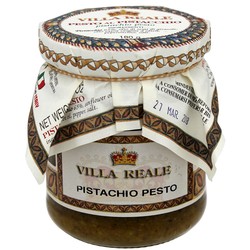 Premium pistachios for this simple but versatile sauce made with extra virgin olive oil and no salt. Glorious on bruschetta, tasty with cheeses or simply tossed with your favorite pasta. Villa Reale products have been produced for more than 26 years by Campo d'Oro in Sicily, Italy. Only ingredients rigorously selected, natural environment, love, and hard work produce these fine gourmet high quality products. In order to guarantee the product's authenticity and quality, all the raw materials are processed with artisanal methods directly after the harvest and quickly processed and packaged by modern machinery without any chemical additives or colorings.
Ingredients: Pistachio, sunflower oil, extra virgin olive oil.