Villa Reale Semi Dried Cherry Tomatoes 10.22oz. 290gr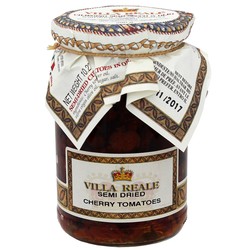 Intense, flavorful and fresh, these cherry tomatoes, grown only in Sicily, are split in half, salted by hand, and then laid on screen tables to partially dry for two to three days. The intensified flavor is captured with touches of basil, garlic, wine vinegar and the producers own extra virgin olive oil. Perfect for entertaining or everyday eating (especially with pasta). This extract is a key ingredient for Sicilians and will turn your sauce into something special! Villa Reale products have been produced for more than 26 years by Campo d'Oro in Sicily, Italy.They produce a vast range of gastronomic products, keeping alive a family tradition that is committed to producing high quality food preserves. Their innovation with modern food processing techniques brought together with true Sicilian tradition creates optimum quality and sublime taste.
Ingredients: Semi-dried cherry tomatoes, sunflower oil, extra virgin olive oil, basil, garlic, wine vinegar, salt.