Villa Reale Sicilian Mix Vegetable Antipasto 10.22oz. 290gr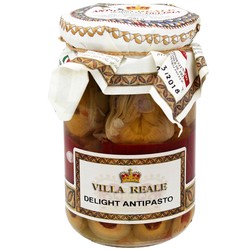 This ancient Sicilian regional recipe brings together the best seasonal vegetables in a typical Mediterranean way, preserving their textures and enhancing their flavors in vegetable and extra-virgin olive oil. Great as hors-d'oeovre or with salads, presented in a rustic style jar. Villa Reale products have been produced for more than 26 years by Campo d'Oro in Sicily, Italy.They produce a vast range of gastronomic products, keeping alive a family tradition that is committed to producing high quality food preserves. Their innovation with modern food processing techniques brought together with true Sicilian tradition creates optimum quality and sublime taste.
Ingredients: Artichokes 10%, mushrooms 10%, carrots 8%, celery 8%, turnips 5%, olives 5%.